Cedar Deck Builders Serving Victoria BC
We specialize in building decks from Western Red Cedar
Building a cedar deck on your property is a great way to enhance the natural look of your yard.  Cedar also has many qualities that make it more desirable as a decking material including it's resistant to rot, resistance to wood-boring insects, and it's stability against cracking and warping.  Western Red Cedar (Thuja Plicata) is also a responsibly harvested local softwood species so it's an environmentally friendly choice too.
Outdoor Carpentry Company is a custom carpentry service based in Victoria and serving the Greater Victoria region.  We specialize in designing and building decks made out of low maintenance, locally harvested Western Red Cedar.  We can build cedar decks of any size or shape from a multi-level or raised deck to a ground level deck and more.  Whether you're looking for a beautifully built cedar deck to surround your hot tub or a relaxing area to eat and entertain we'll be able to help.
Our Deck Construction Process
Initial consultation to view your project and the build site.
We'll answer any questions or provide suggestions where needed.
We can include custom deck design if needed.
Present you with an estimate to complete the project.
Schedule your start date if you want to proceed.
Our Deck Building Estimates Include:
Tear out or removal of old deck (if there is one)
Proper base and footings
Deck framing and construction
Decking material of your choice
High quality fasteners and hardware
Railings and stairs if/where required
Sealing of deck if required (recommended for waterfront decks)
Western Red Cedar is a softwood that has been growing in the Pacific Northwest for many thousands of years.  It's a native species that grows in abundance on Vancouver Island and cedar is harvested from both managed and old growth forests on both private and crown land.  From the forest to the finished product most of our cedar is logged and milled right here on the Island so you'll be keeping your business local when you choose a cedar deck.
Why Build Your Deck With Cedar?
Cedar is a very desirable decking material on the West Cost and considering cedar decking is nearly twice the price of regular pressure treated lumber there must be several powerful reasons that people want to pay the premium for cedar.  Yes, there are!
Cedar isn't only desirable for it's decorative properties where it's rich natural red hues and coloring deliver an iconic, timeless look for west coast styled homes.  Cedar also contains natural chemicals called "tannins" that make it resistant to rot and resistant to insects.
Cedar Decks Are Low Maintenance
Depending on the look you're after your cedar deck can be very low maintenance or it may require a new coat of stain every couple of years.  Cedar left unstained will eventually lose it's natural coloring and fade to a dull grayish color.  Some homeowners are happy with this look.  Other homeowners want to preserve the natural color and hues so they choose to stain their cedar deck with one of the many products designed specifically for cedar decking.  Because Cedar has an open cell structure it readily accepts wood stains and coatings when the wood is clean.
Should you ever need to have a decking board replaced Cedar is very easy to source and the replacement of a board or two is generally not very expensive.
Why Choose The Outdoor Carpentry Company To Build Your Cedar Deck?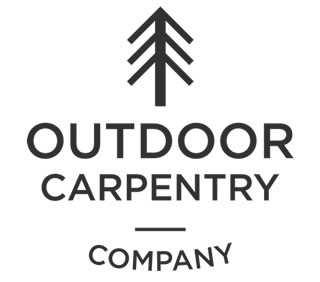 When you choose the Outdoor Carpentry Company to build your deck using Western Red Cedar you're partnering with a small team of dedicated craftsman carpenters.  With over 30 years of combined experience you can be rest assured your new cedar deck will be built to the highest of standards.
We have a solid track record of happy and satisfied customers, many of them calling on us again and again for their carpentry needs and also referring us to their friends and family.  It's through the quality of our work and dedication to each and every customer that our business continues to grow.
We care about your cedar deck project and we want to make sure we do the best job we possibly can.  We provide unbeatable value, we keep your property clean and uncluttered, our pricing is fair, and the quality of our finished carpentry work is unmatched.
If you'd like to schedule an estimate or consultation to build your new cedar deck project give us a call at (250) 889-2926 or fill out our online contact form and we'll get right back to you.