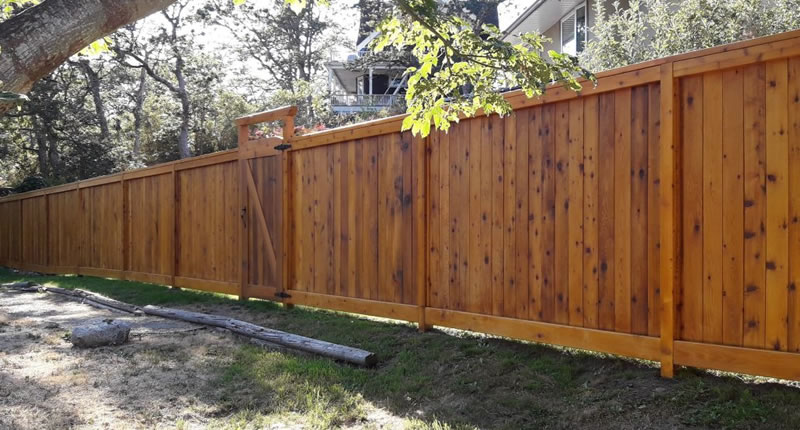 Cedar Privacy Fence Builder Victoria BC
We build wood privacy fences using Western Red Cedar.
Have you moved into a new subdivision with very little backyard privacy from your neighbours?  Would you like to have a safe place for your children to play and your pets to be able to run free?  Are you interested in fencing your property for more privacy and security but you just don't want a plain old chain-link or wire fence?
There are many valid reasons you might want to build a proper fence around your property and Cedar is a great choice in materials if you like the decorative natural wood look.
Outdoor Carpentry Company is a custom carpentry service based in Victoria and serving the Great Victoria region.  We specialize in building custom cedar fences and privacy walls.  From a simple privacy wall for your back deck  to a 200+ feet of cedar panel fencing along the front or sides of your property we'll be able to provide you with a sturdy, great looking fence that will last for many years.
Wood Fence & Privacy Wall Construction Victoria BC
Removal of old fences
Decorative Cedar panel fencing
Privacy Cedar fence construction
Cedar privacy wall construction
Custom Cedar gates
An important thing to note about wood privacy fences is that they are often subject to local zoning and building codes.  You might be limited on the maximum height of your fence, distance from property lines (called a setback) and sometimes even the style of fence must be very specific to meet home owner association or strata requirements depending on where you live.
How Our Wood Privacy Fence Construction Process Works
We've built many different styles of cedar privacy fencing over the years and bring a wealth of ideas and experience to the table.  We prefer working with Cedar as it's nice to work with, readily available and it always looks great when properly finished.
We start with our initial consultation.
We determine how many linear feet of fencing you need.
We take into account the lay of your land and any obstacles.
We consult with you on the materials you'd like your fence built with.
We'll provide an accurate estimate for the work including materials and labour.
How Much Does Cedar Fencing Cost To Build?
We price our Cedar fencing projects by the linear foot.  This doesn't include any clearing of fence lines or extensive site preparation.  The cost of your new Cedar fencing will also usually depend on the size and type of Cedar fencing you choose, how many posts need to be anchored with cement, how many gates you have and what style (custom or stock), finishing touches such as lattice or post caps and lastly your site conditions will also play a big role in the final cost.
In order to give you an accurate cost estimate on your particular Cedar fence we'd need to come and visit your build site, find out what exactly you're looking for, and take a few measurements.
Why Choose The Outdoor Carpentry Company To Build Your Cedar Fence?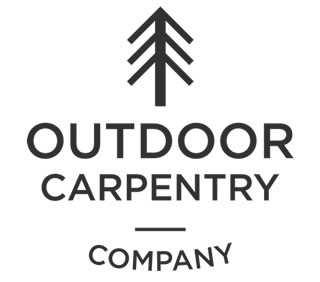 When you choose the Outdoor Carpentry Company to build your Cedar fence you're partnering with a small team of dedicated craftsman carpenters.  With over 30 years of combined experience you can be rest assured your new Cedar fence will be built to the highest of standards.
We have a solid track record of happy and satisfied customers, many of them calling on us again and again for their carpentry needs and also referring us to their friends and family.  It's through the quality of our work and dedication to each and every customer that our business continues to grow.
We care about your fence project and we want to make sure we do the best job we possibly can.  We provide unbeatable value, we keep your property clean and uncluttered, our pricing is fair, and the quality of our finished carpentry work is unmatched.
If you'd like to schedule an estimate or consultation to build your Cedar fence project give us a call at (250) 889-2926 or fill out our online contact form and we'll get right back to you.