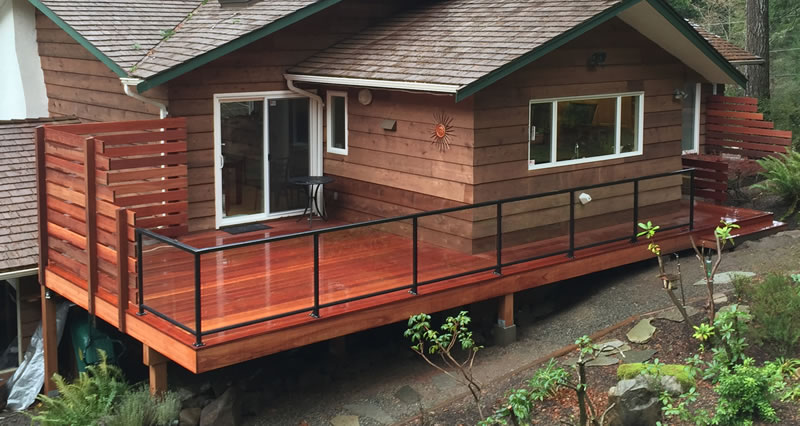 Kayu® Batu (Red Balau) Deck Builder Victoria BC
We specialize in building decks using Red Balau hardwood
Red Balau, is an exotic hardwood that is grown, harvested, kiln dried, and imported from the tropical climates of southeast Asia.  Kayu isn't the wood species it is the brand name and one of the main suppliers in Western Canada.  Red Balau Batu decking material is carefully selected from premium Shorea species.  Shorea is a genus of about 196 species of mainly rainforest trees with these particular trees coming from sustainable harvests in Malaysia and Indonesia.
Why Would You Like Your New Deck Built With Kayu®?
Do you have an old pressure treated deck that is falling apart?
Do you have an old cedar deck that is finally ready for replacement?
Do you have an oceanfront property and want something that can withstand the harsh weather?
Outdoor Carpentry Company is a deck building contractor based in Victoria and serving the Great Victoria area.  We specialize in designing and building custom wood decks made with Red Balau and other exotic hardwoods available from Kayu®.  Whether you want us to rebuild an existing deck or build something new and unique the small team of craftsman at the Outdoor Carpentry Company will be able to help you.
What Makes Red Balau A Great Material For Decking?
Available in 100% clear grade (no knots) Balau Batu is often mistaken for mahogany with it's rich dark hues and clean knot free appearance.  Red Balau Batu is not just an awesome choice for decking but it's also favoured for a variety of exterior construction projects such as custom fencing, foot bridges, docks, and even boardwalks.
It's durable, resists scratches and dents and like Western Red Cedar it contains natural oils that help repel insect attacks and discourage rot and decay.  If an Ipe deck was a little bit too expensive but you love the exotic hardwood "look and feel" then Balau Batu is an excellent option you might want to consider for your deck.
Maintaining your Balau Batu decking material isn't difficult.  You'll need to keep it clean by washing it once or twice per year and then treat it annually with a special finishing oil if you like the look.  Because the wood has natural oils that are beneficial, you don't want them to dry out.  By treating the wood with proper oil it will keep the decking material looking like new.
If you decide not to treat the decking material, fear not… Balau Batu will last for 25 years or more without treatment of any kind!  When not stained with an oil it will weather naturally into a nice silvery gray patina that many homeowners find quite attractive.
If you are considering building or upgrading your outdoor living space you should know that not all decks and fences are created equally and it pays to do some research. Naturally this should begin with the wood. It needs to be beautiful and durable – able to withstand temperature and moisture differences year after year.
If you start with high quality wood you can be assured that your project will not only last longer but will look newer longer too. Kayu® Batu is a carefully selected, Balau hardwood species that has been used for cruise ship decking and boat building for over 50 years!
Our Deck Construction Process
Initial consultation to view your project and the build site.
We'll answer any questions or provide suggestions where needed.
We can include custom deck design if needed.
Schedule your start date.
Our Deck Building Estimates Include:
Tear out or removal of old deck (if there is one)
Deck design if required
Proper permits will be pulled
Proper base and footings
Deck framing and construction
Decking material of your choice
High quality fasteners and hardware
Railings and stairs if/where required
Vancouver Island is a coastal temperate rainforest which can present some specific challenges for outdoor wood structures like a deck.  While we're blessed with great weather almost year-round the humidity and moisture in our air can cause problems with inferior materials.  Kayu® Red Balau is the perfect choice for decking materials in our climate.
Why Choose The Outdoor Carpentry Company To Build Your Wood Deck?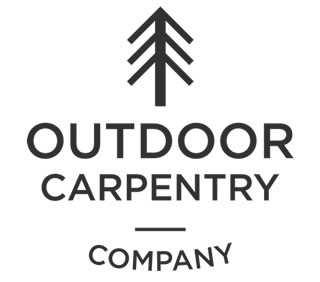 When you choose the Outdoor Carpentry Company to build your deck using Kayu® Red Balau you're partnering with a small team of dedicated craftsman carpenters.  With over 30 years of combined experience you can be rest assured your deck will be built to the highest of standards.
We have a solid track record of happy and satisfied customers, many of them calling on us again and again for their carpentry needs and also referring us to their friends and family.  It's through the quality of our work and dedication to each and every customer that our business continues to grow.
We care about your deck project and we want to make sure we do the best job we possibly can.  We provide unbeatable value, we keep your property clean and uncluttered, our pricing is fair, and the quality of our finished carpentry work is unmatched.
If you'd like to schedule an estimate or consultation to build your deck using Kayu® Red Balau project give us a call at (250) 889-2926 or fill out our online contact form and we'll get right back to you.