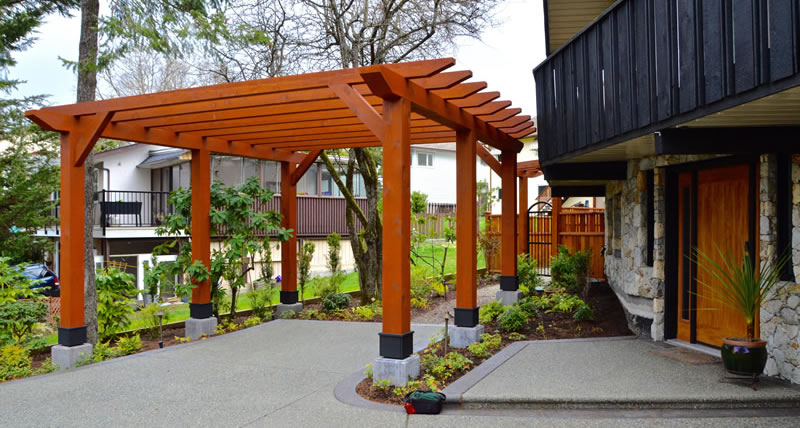 Pergola & Gazebo Builders Serving Greater Victoria BC
We build custom wood pergolas, gazebos, and arbors
Can you imagine spending your beautiful Vancouver Island summer days lounging around in your back yard underneath the shade of your own custom built pergola?  Maybe with a good book in hand or just relaxing with a cool drink beside you?  Pergolas and gazebos make an amazing addition to any back yard, deck, or landscape and increase your enjoyment you get from your property.
Outdoor Carpentry Company is a pergola and gazebo building service based in Victoria and serving the Great Victoria region.  We specialize in designing and building custom wood pergolas and gazebos for front yards, back yards, decks, landscaped and garden areas.  Whether you want a pergola at the front entry way of your home, something to cover your hot tub or a nice shaded area on your back patio the small team of craftsman at the Outdoor Carpentry Company will be able to help you.
Pergola Construction
Pergolas are like the over-sized cousin of the arbor, quite a bit bigger, they are often built freestanding or attached to an existing structure such as a deck or the side of your home.  Pergolas can be built with a roof or no roof at all if you only plan to use the structure for spring and summer, in which case wooden beam structures are usually the norm for West Coast homes.
The pergolas we build for our clients can encompass an array of different construction designs and every pergola we build is unique to your space.  Your pergola can be placed anywhere and built to your specifications.
Attached pergolas
Free standing pergolas
An attached pergola can be attached to any structure you'd like such as the side of your home, onto an existing deck, over your hot tub, beside your pool, and more.  A free-standing pergola is a great addition to your landscape and can be placed in the middle of your garden, in your back yard, or even an outdoor cooking area.
Gazebo Construction
Gazebos are much like a pergola but they usually don't have an open roof design like a pergola would.  Gazebos are generally more of a weather tight structure designed to not only provide shade but also keep the rain out too.  You can also screen your gazebo in to prevent insects from getting inside too.
The Benefits of A Well Constructed Pergola Or Gazebo
A pergola or gazebo can help you get more enjoyment out of your property and it can also increase your property value. You can use your new pergola however you like whether it's something built purely for aesthetic appeal or built for a specific purpose.
You can have more shade, a nice quiet area to relax, an area to cook, and more.  With a custom built pergola or gazebo you're not getting some kit sold at a big box store using low-grade materials.  You're getting a custom built solution that is built specifically for your needs using high quality lumber and high quality fasteners so your pergola will amazing for many years.
Why Choose The Outdoor Carpentry Company To Build Your Pergola Or Gazebo?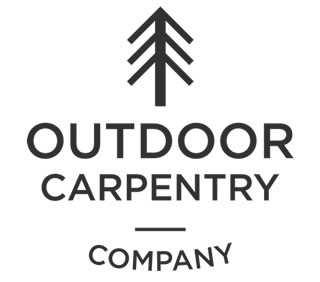 When you choose the Outdoor Carpentry Company to build your new pergola you're partnering with a small team of dedicated craftsman carpenters.  With over 30 years of combined experience you can be rest assured your pergola will be built to the highest of standards.
We have a solid track record of happy and satisfied customers, many of them calling on us again and again for their carpentry needs and also referring us to their friends and family.  It's through the quality of our work and dedication to each and every customer that our business continues to grow.
We care about your pergola project and we want to make sure we do the best job we possibly can.  We provide unbeatable value, we keep your property clean and uncluttered, our pricing is fair, and the quality of our finished carpentry work is unmatched.
If you'd like to schedule an estimate or consultation to build your new pergola give us a call at (250) 889-2926 or fill out our online contact form and we'll get right back to you.