Ipe Wood Deck Builder Victoria BC
We build beautiful decks out of Ipe
Ipe, pronounced (ee-pay) is a Brazilian hardwood that has been prized for it's durability and Ipe has been a luxury deck building material for many years.  You've probably already walked on an Ipe deck, walkway, or boardwalk without even knowing it as it's easily one of the most popular exotic wood choices in North America.  Ipe's color can vary from a deep brown to yellow-brown with grey undertones.
Outdoor Carpentry Company is a deck building service based in Victoria and serving the Great Victoria region.  We specialize in designing and building custom wood decks made out of luxurious Ipe.  Whether you want us to rebuild an existing deck or build something new and unique the small team of craftsman at the Outdoor Carpentry Company will be able to help you.
Ipe hardwood is chosen for its high density and resistance to scratches, decay and insects. With a Janka hardness rating of 3680 it's more than 3 times more durable than Cedar!  Another cool fact about IPE is that it's just as fire resistant as steel!
Maintenance for an Ipe deck is like any other exotic hardwood.  You can either choose to the oil deck on an annual basis to keep it's rich colors or you can let the wood naturally weather into a silvery/gray patina that would require very little maintenance aside from sweeping.
Because of it's hardness Ipe can be tough on a craftsmans tools and is not the easiest wood to work with from a construction perspective.  This doesn't change the fact that when completed an Ipe deck is a beautiful sight and will improve the curb appeal and enjoyment of any home.
Our Deck Construction Process
Initial consultation to view your project and the build site.
We'll answer any questions or provide suggestions where needed.
We can include custom deck design if needed.
Schedule your start date.
Our Deck Building Estimates Include:
Tear out or removal of old deck (if there is one)
Deck design if required
Pulling of appropriate permits
Proper base and footings
Deck framing and construction
Decking material of your choice
High quality fasteners and hardware
Railings and stairs if/where required
Sealing deck if required (recommended for waterfront decks)
Why Choose The Outdoor Carpentry Company To Build Your Ipe Wood Deck?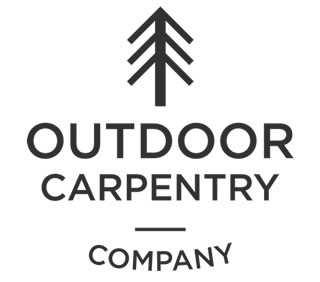 When you choose the Outdoor Carpentry Company to build your deck with Ipe you're partnering with a small team of dedicated craftsman carpenters.  With over 30 years of combined experience you can be rest assured your deck will be built to the highest of standards.
We have a solid track record of happy and satisfied customers, many of them calling on us again and again for their carpentry needs and also referring us to their friends and family.  It's through the quality of our work and dedication to each and every customer that our business continues to grow.
We care about your deck project and we want to make sure we do the best job we possibly can.  We provide unbeatable value, we keep your property clean and uncluttered, our pricing is fair, and the quality of our finished carpentry work is unmatched.
If you'd like to schedule an estimate or consultation for your Ipe wood deck project give us a call at (250) 889-2926 or fill out our online contact form and we'll get right back to you.