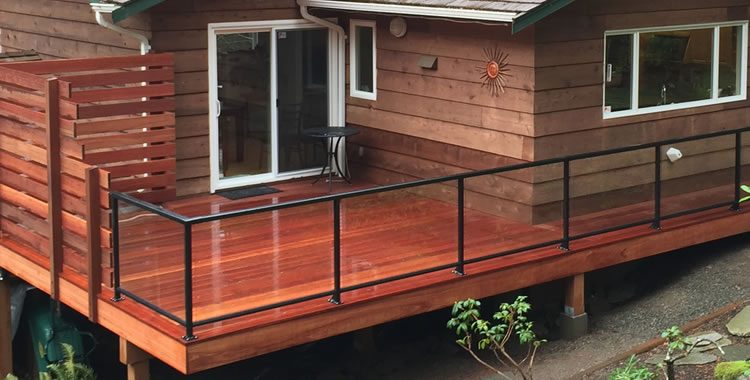 Are you in the market for a custom built deck on your property using exotic hardwood as the decking material?  There are several exotic hardwood species that are imported to BC to be used as decking materials and they are growing in popularity.
Homeowners aren't just choosing these exotic hardwoods for the looks and aesthetics either, a big part of their decision is that most of the exotic hardwoods that are being used for decking are 1.5 to 3 times more durable than our local native species.
If you're looking for exotic hardwoods as a decking material for a custom built deck then you probably already understand the jump in price over other materials like fir, pressure treated pine or even cedar, but the budget for your deck project is up to you!
Your Dream Deck Design
The best way to build a beautiful deck using exotic hardwood on your property is to do it once and do it right the first time!  This means designing the deck you want before any material is ordered or any ground is broken on the project.  Whether you've hired a designer/architect to design the deck or you're happy with trying to convey your vision with a napkin sketch it's important to have a visual plan for how you want the deck to look and function.
What will you be using the deck for? Who will be using it?  Will there be staircases and landings?  Do you want the deck to be strong enough to support a hot tub?  Do you want integrated seating or flower planters? Or an integrated arbour?  Do you want a bump-out for your BBQ?  There are so many design options that it's always a good idea to develop your own deck "swipe file" of ideas full of designs and elements you like so you can share them with your builder.  Whether you've got the ideas on TV or found them in a magazine or a website somewhere, if it's something you like then ask your builder about it.
Want Durable Wood Decking? Here's How To Choose The Best
If you've got kids or pets or plan to do a lot of entertaining on your deck then the durability of the decking material and it's ability to stand up to abuse might be important to you.  So how do you know which wood species is the most durable without falling for the marketing hype and slick sales pitches?
The easiest way to tell the hardness of any wood (native or exotic) is by the Janka hardness test.  The Janka hardness test can give you a good indication as to the hardness of any particular wood species you might be considering for your decking material.
This test measures the lb/in2 required to embed a .444-inch steel ball (almost 1/2″ round) to half its diameter (almost 1/4″)  in wood. This test is one of the best measures of the ability of any wood decking species to withstand denting and wear.
Western Red Cedar for example, has a Janka hardness of approximately 900-1000 while Red Balau Batu has a Janka hardness of 1650.  Ipe has a Janka hardness of 3680 which it makes it's surface more than 3 times more durable to dents, knicks and scratches than the ever popular Western Red Cedar decking.
While durability is good, it's also important to remember that the harder the wood is the harder it is for your builder to work with.  There is usually an increased labour cost when working with exotic hardwoods for this reason.  It's harder on tools, harder to work with and thus just takes up more time.
Consider The Cost To Import Exotic Hardwood Decking Materials
Choosing an exotic hardwood to build your deck means your decking material could be coming from the other side of the world.  Malaysia, Indonesia and Brazil are all suppliers of exotic hardwood species for the decking and construction industry so the shipping cost is going to be absorbed by you, the customer.
If you want to lessen your environmental impact then you might want to consider using locally sourced cedar for your deck which while not as durable as some of the exotic hardwoods, still looks beautiful in our west coast setting and is easy for a builder to work with.
Preserving The Natural Oils In The Wood
Tropical imported woods and most of our native woods for that matter contain natural oils that help protect the wood from rot, insects and in some cases even fire!  When choosing an exotic hardwood for your decking material you'll need to choose whether to preserve the woods appearance with an oil or just leave the wood to weather naturally.
If you choose to apply oil it's something that will need to be done on an annual basis to keep the decking material looking like new, it's done annually because the hardwoods are so dense that your oil/stain won't be able to penetrate deeply into the wood, thus the need for reapplication so soon.
If you do choose to leave the wood untreated then it will naturally weather into an aged silvery/grey patina and you can always choose to sand and re-oil the wood at a later date.
To prevent rot and decay or discoloration of the wood decking it's important not to let organic materials like leaves, twigs and other wind blown debris to accumulate on the deck.  If these materials are ignored they will begin to rot and decay, this process can encourage the wood decking to do the same regardless of how durable the wood is!
Red Balau Batu Decking Material and Deck Construction
Red Balau, is an exotic hardwood that is grown, harvested, kiln dried and imported from the tropical climates of southeast Asia.  Red Balau Batu decking material is carefully selected from premium Shorea species.  Shorea is a genus of about 196 species of mainly rainforest trees with these particular trees coming from Malaysia and Indonesia.
Available in 100% clear grade (no knots) Balau Batu is often mistaken for mahogany with it's rich dark hues and clean knot free appearance.  Red Balau Batu is favoured for a variety of exterior construction projects such as custom fencing, decking materials, foot bridges, docks and even boardwalks.
It's durable, resists scratches and dents and contains natural oils that help repel insect attacks and discourage rot and decay.  If an Ipe deck was a little bit too expensive but you love the exotic hardwood "look and feel" then Balau Batu is a excellent option you might want to consider for your deck.
Maintaining your Balau Batu decking material isn't difficult.  You'll need to keep it clean by washing it once or twice per year and then treat it annually with a special finishing oil if you like the look.  Because the wood has natural oils that are beneficial, you don't want them to dry out.  By treating the wood with proper oil it will keep the decking material looking like new.
If you decide not to treat the decking material, fear not… Balau Batu will last for 25 years or more without treatment of any kind!  When not stained with an oil it will weather naturally into a nice silvery gray patina that many homeowners find quite attractive.
Ipe Wood Decking Material and Deck Construction
Ipe, pronounced (ee-pay) is a brazilian hardwood that is prized for it's durability and has been a deck building staple for many years.  You've probably already walked on an Ipe deck, walkway or boardwalk without even knowing it as it's easily one of the most popular exotic wood choices in North America.  Ipe's color can vary from a deep brown to yellow-brown with grey undertones.
Ipe hardwood is chosen for its high density and resistance to scratches, decay and insects. With a Janka hardness rating of 3680 it's more than 3 times more durable than Cedar.  Another cool fact about IPE is that it's just as fire resistant as steel!
Maintenance for an Ipe deck is like any other exotic hardwood.  You can either choose to the oil deck on an annual basis to keep it's rich colors or you can let the wood naturally weather into a silvery/gray patina that would require very little maintenance aside from sweeping.
Because of it's hardness Ipe can be tough on tools and is not the easiest wood to work with from a construction perspective.  This doesn't change the fact that when completed an Ipe deck is a beautiful site and will improve the curb appeal and enjoyment of any home.
Cumaru Decking (Brazilian Teak)
Cumaru (also known as Brazilian Teak) is another beautiful exotic hardwood from South America with lots of character.  It's often used for building decks on luxury homes, five-star hotels, resorts, and commercial decking projects.  Walking out onto a deck made out of Cumaru will make you feel as though you're being wisked away to some tropical destination with it's rich golden tan to reddish brown hues and dark grain it will be warm on the feet when the sun is shining.
Cumaru decking is often separated into two different color categories:  You have light, which is also known as "standard Cumaru" or Brazilian Teak.  There is also dark Cumaru which is known as Red Cumaru or Brazilian Chestnut.  Both options are available through local suppliers.
Like most other exotic hardwood decking materials Cumaru naturally resists rot, decay and wood boring insect attacks.  Without preservatives Cumaru can last up to 50+ years with regular maintenance.  If an IPE deck is out of your price range then a Cumaru deck might be an option to consider as the prices on Cumaru are a bit softer.
Don't Go Cheap On Your Deck Hardware and Decking Fastening Systems!
If you're spending top dollar on an exotic hardwood decking material for your deck construction it's important to make sure you're using the highest quality hardware and fasteners that you can afford.  There is no point building a deck using an exotic hardwood that naturally withstands the elements for decades only to have your hardware and fasteners fail and rust out long before the decking does.
This is especially important for houses that might be along the oceanfront where the salty air can contribute to corrosion of inferior fasteners.  Always make sure you are getting high-grade stainless steel screws and jigs or brackets with your deck estimate.
Outdoor Carpentry Company Specializes in Deck Construction Using Exotic Hardwoods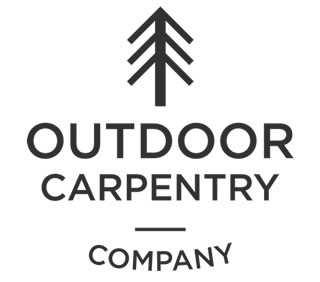 The Outdoor Carpentry Company team specializes in building decks out of exotic hardwoods.  Our team can help you with the design, permitting process and the complete construction of your beautiful new dream deck.  We offer a variety of finishing options including custom millwork and wood profiling as well.
If you'd like to have a deck built using exotic hardwoods such as Ipe, Red Balua Batu, Cumaru or Cedar please give us a call (250)-889-2926 or fill out our email form and we'll get right back to you.